RJMI Audio Sermons
<![if !vml]>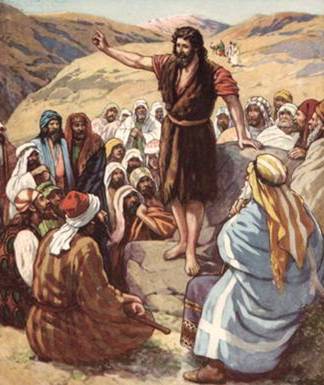 <![endif]>
Saint John the Baptist
 
"For our gospel hath not been unto you in word only,
but in power also, and in the Holy Ghost.
For although I be rude in speech, yet not in knowledge."
(1 Thessalonians 1:5; 2 Corinthians 11:6)
Catalog Number, Title, Date, Length, Size, Description
[July 15, 2007: 42 min: 9.51 MB]
A reminder that I censure movies, such as The Black Robe, that contain immorality, immodesty, and heresy before others view them. – Living a moral life without the Catholic faith does not save men. – Deathbed conversions are rare and many are insincere. God will make manifest to credible witnesses a sinner's repentance on his deathbed. When God raises men from the dead, He does so within a short period after they die. It is unnecessary and even odious to God's order that men be raised from the dead more than a generation after their death into a time in which no one knows them. It is also an error condemned by the ordinary magisterium to believe that God will raise from the dead many men just before or after His Second Coming in order to preach to them and convert them.
  
[April 29, 2007: 26 min: 6.05 MB]
Sr. Josefa Menendez describes the nature of hell from first-hand experiences.
  
[July 16, 2006: 26 min: 5.97 MB]
God is just: Jews and Moslems once united to fight against Catholics are now fighting one another – USA supports the Beast (Anti-Christ Israel) once again Poverty converts the good willed The reasons Jews believed in Moses are the same reasons they should believe in Jesus (Jn. 9:28-29).
  
[April 30, 2006: 38 min: 5.78 MB]
Roman Missal reading – John Chapter 10 teaches the Salvation Dogma (faith comes only by hearing supernatural revelations) – Apostate Bishop Sheenan's heresies about the Indian god and the mixing of the Indian religion with Catholicism – God will destroy the apostates.
  
[March 19, 2006: 43 min: 10.0 MB]
Roman Missal reading –The epistle proves the need of faith and works Two Kingdoms: Christ's and Satan's – Old Testament Elect's sins were forgiven but not remitted until they were baptized after Christ's resurrection. 
  
Mary's Little Remnant
302 East Joffre Street
Truth or Consequences, New Mexico 87901-2878
Website: www.JohnTheBaptist.us
(Send for a free catalog)